What's next for the Top 10 CNN Heroes?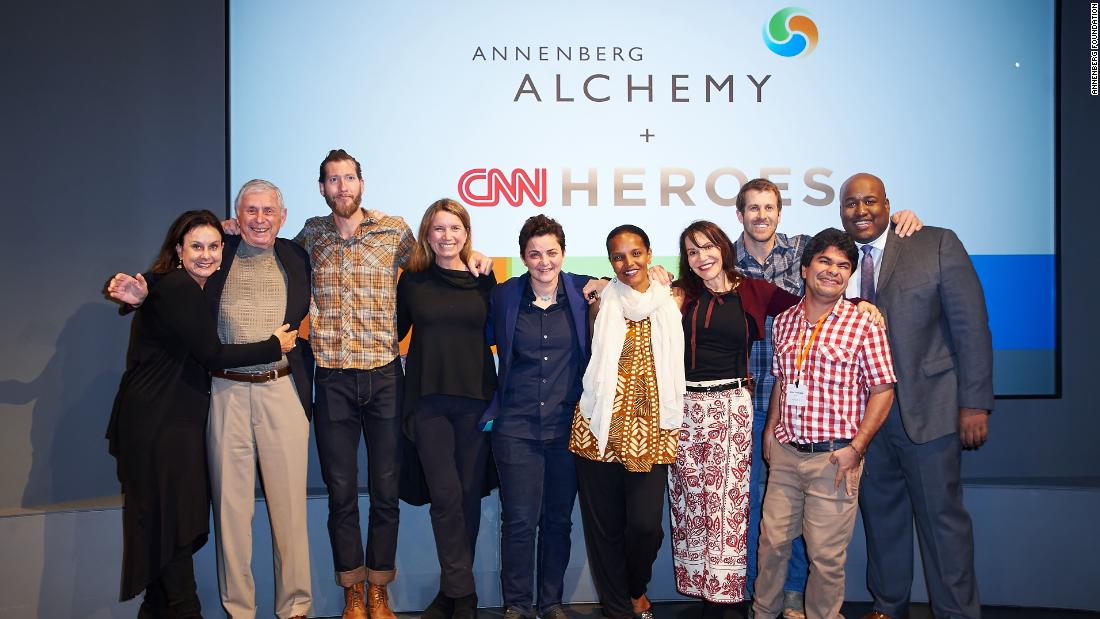 (CNN)Since being honored as a Top 10 CNN Hero in 2016, Sheldon Smith says his nonprofit has grown more than he could ever have imagined.
Through his
Dovetail Project
, Smith helps young fathers in Chicago become positive role models and responsible parents. The group has doubled the number of fathers in the program, been recognized by the Obama Foundation and is working to expand to another city.
A year ago, building an organization of this magnitude would not have been possible, Smith said. But he and his group were able to make significant changes last year thanks to a special training program created by the
Annenberg Foundation
, a leading supporter of nonprofits worldwide.
For the last five years, the top 10 CNN Heroes, along with key members from their organizations, have attended the three-day training program in Los Angeles — known as Alchemy — for free. The program is designed to help nonprofits build a strong, sustainable foundation for long-term success.
"The training is so real and at a high level," Smith said. "I thought they were going to put on a typical workshop where everything is at a base level. That's not what this is — this is about growing, expanding, and taking you to the next level."
The Heroes undergo a condensed version of the foundation's main Alchemy program, which typically takes place over 13 months. Annenberg, which has trained more than 1,200 California organizations, tailored its program for the Heroes, who often start small and lack backgrounds in running a nonprofit.
Participants learn best practices in a wide variety of areas, including fundraising, board governance and effectiveness, volunteer management, storytelling and media training. The goal of the training is to help the organizations grow and become lean, resilient and sustainable.
"They are genuinely excited and moved by the training, and they really do want to use it to make their organizations better, because they are working from the heart," said Marsha Bonner, Director of Programs, Community Grantmaking and Special Initiatives at the Annenberg Foundation. "But they need more than heart; they need tools to move forward, and that's what Alchemy provides."
On the last day of the program, the trainers hold one-on-one sessions with each organization, helping them develop a customized plan, prioritize their goals and commit to taking necessary actions toward achieving them.
Then, 90 days after the training, each organization receives a follow-up call from their trainer to review their progress on implementing specific goals, help make adjustments and answer any questions that may have come up.
Bonner said the trainers specifically commented that working with the CNN Heroes is "one of their favorite tasks of the year" and that the groups worked very hard achieving many of the goals.
In addition to the invaluable guidance, many participants build friendships and network with fellow Heroes.
Sherri Franklin
, whose nonprofit rescues senior dogs from shelters, said being around other nonprofit leaders was the highlight of her training.
"We learned so much from each other's experiences and sharing what we've gone through as founders," Franklin said. "Being around people who understand what you are going through — the hardships as well as the opportunities — that's invaluable."
Brad Ludden
— who started a nonprofit that takes young adult cancer fighters and survivors on outdoor adventures — translated his Alchemy experience into expansion.
"We brought a lot of the teaching back into our organization. A lot of things have made this whole process not only easier, but more effective and beneficial for our participants," Ludden said. "We expanded into 15 cities across the US, and we provided programming to hundreds and thousands of people who we hadn't before reached. And that's just the beginning."
For the sixth year, Annenberg is providing its free Alchemy training as part of the award package for the
Top 10 CNN Heroes
. The upcoming training will also include Top 10 Heroes Smith and Ludden, who will share how they leveraged their CNN Heroes and Alchemy experience.
"I am so fired up about going back to Annenberg to meet these heroes," Smith said. "When you are excited about these cool things happening to you, you can miss important things that you should be asking and talking about. I want to give them as much information about my experience so they can make the best of these amazing opportunities."
Read more: http://www.cnn.com/2018/01/26/us/cnnheroes-top-10-annenberg-alchemy/index.html
Hi my name is Kareem Maize and welcome to my personal blog. I am 26 year old musician and information technology professional with a passion for learning new aspects of life everyday. On my journey to express myself I began blogging to share my ideas with others. Now I intend to write fun, interesting, and engaging content for my viewers to help them grow spiritually, physically, and mentally . The concept of belief systems and the law of attraction peak my interest!!! I believe blogging about my personal experiences, beliefs, and ideas is the best way to achieve these goals!!!